Two of the main arteries of Bucharest, Schitu Magureanu and Queen Elizabeth avenues are bordering the Cismigiu Park, the first public garden in Bucharest. Located in the city center, Cismigiu is arranged in the style of English parks.
Alexander Ypsilanti ordered in 1779 the construction of two fountains in Bucharest. The first was built in the Stirbei street part of today. Pavel Kiselev ordered in 1830 to dry the pond and turn it into a public garden.
In Cismigiu garden there were planted and have acclimatized for the first time in Romania certain plants such as: plate tree, Japanese red pine, spruce, red and pink magnolia.
1852 was the year of changes for Cismigiu garden: fencing was done with groove and oak benches without restraints were installed. In 1854 beautification works were finished and Cismigiu Garden was officially inaugurated.
 (Photo: http://bucurestiulvechi.wordpress.com/)
On the garden's alleys, there is a marble monument dedicated to French soldiers in the First World War, the bust of Mother Smara and the Sissi Stefanidi water spring.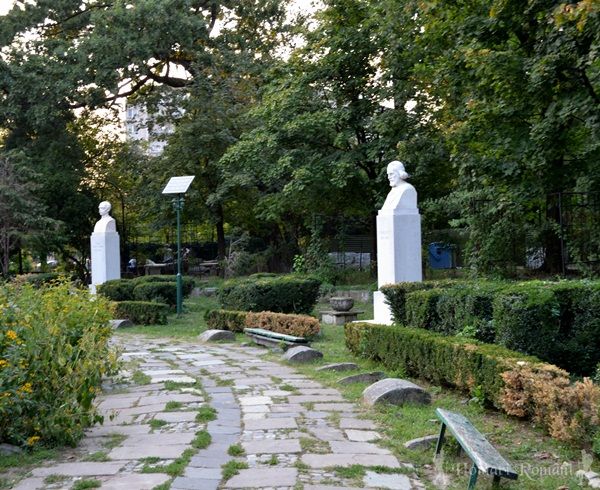 The newspaper Kiosk at the entrance of the park is the oldest in Bucharest, but the second as construction, because the first (on Calea Victoriei) burned completely.
Lovers' Alley
Cismigiu garden is sought after in the summer for its landscapes, being interesting for lovers, for cool and romantic walks, for boating or bicycle strolls, for its promenade places for chess players and other table games, while on winter, becomes a wonderful natural ice rink.
Translated and arranged after an article from:  inparc.ro/parcuri/cismigiu
Source: http://www.romania-redescoperita.ro/index.php/component/k2/item/322-parcul-cismigiu-cea-mai-veche-gradina-publica-din-bucuresti